Celebrating Terry Dixon and creativity
Ciara White, Co-Managing Editor/A&E Editor
October 5, 2021
Hosted August 23 through September 30, the College of Lake County dedicated the entirety of the Robert T. Wright Gallery of Art to Terry Dixon, a late CLC art teacher.
Dixon had taught computer arts at CLC for 20 years, and he was admired by many. He unfortunately passed in 2019, but his memory and influence live on. Two years after his passing, CLC still feels as though it is crucial to celebrate his life and art.
The exhibition dedicated to him–entitled In Memoriam: Celebration of a Creative Life–was free and open to the public. Students could browse the art throughout the month, but the college also hosted a formal reception.
Some of Dixon's pieces were listed for sale at the reception, ranging in prices from $2,000 to nearly $10,000. For example, Dixon's piece Me was listed at $2,900: this was a mixed media canvas piece created in 2006, described as a thought-provoking, abstract self-portrait.
CLC had presented a wide variety of Dixon's pieces, showing Dixon's skill and craft. He seemed to have dabbled in each medium, including painting, photography, computer art, and sketches. At times, his style was controlled and calm, but it could also be aggressive and free-flowing. Throughout the pieces, a nice balance between the two can be seen.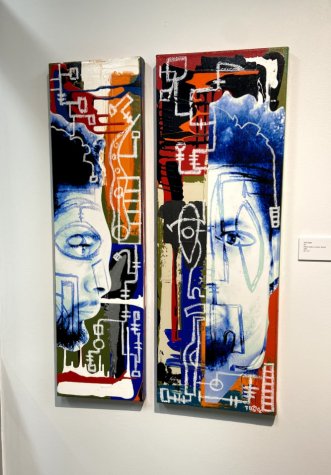 Additionally, the exhibition included plaques with meaningful quotes from Dixon, covering his motivations and explanations for his art. One of the plagues mentioned Dixon's experimental style.
"Over the years, I enhanced my techniques on canvas by combining my photographic images with acrylic paint, oil pastels, and ink. During my years of experimenting with digital technology, I have found an interesting marriage between traditional studio techniques and digital media," Dixon had said.
On the flyer for the event, CLC shares that Terry's imagery and art "reflects influences of African art and abstract expressionism," but also his love for jazz and electronic music. He poured a lot of himself into whatever he was creating. Some of his pieces cover political or societal issues, bringing awareness through art. For example, By 1900… commented on the exploitation and unfair treatment of African Americans in the 19th century.
Handwritten by Dixon in what seems like chalk, the piece says, "By 1900, black workers formed 65% of the coal mining labor forces and 90% of convicts working in the Pratt Mines." That specific piece was listed at $3,500.
"During the years, my work has gone through political art, urban, mixed media, poetry, stories, and the exploration of color, lines, images, and textures. Having the experience of creating different works of art has let my audience see various sides of me, but they can always see the signature style," Dixon had said.
Dixon's art can capture more profound messages about identity and history while being vulnerable and authentic to Dixon's character. Looking at the art, it is clear that Dixon was a thoughtful, genuine soul that truly had a humble passion for art.
As a child, Dixon frequently saw his mother work on art projects, stretching over canvases with all of her attention and focus. Amazed, Dixon said that this moment created that same spark in him.
"I knew that the world she was part of was the world that I wanted to be in," Dixon had said.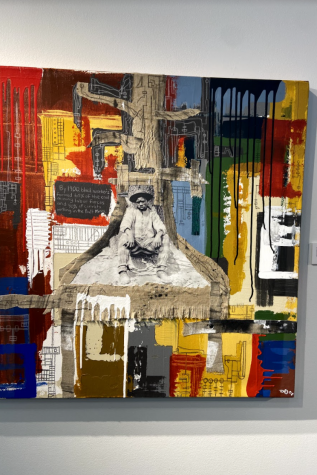 Furthermore, Dixon expressed that he would not have gotten to the point he did if not for his mother. She continuously pushed him to be creative, leading Dixon to approach each day before his passing as creatively as possible. Art was always on his mind.
Present in most pieces is the motif of an eye. Terry Dixon was big on visual mystery and saw it to be a crucial part of art. While he may have had an intended reason for continuously putting eyes into his art, students seeing his piece for the first time are left to wonder in awe. We each interpret art differently, but it gets us thinking.
While the exhibit may be coming to a close, Dixon's legacy and influence live on–his legacy of being a beloved, respected member of CLC and a talented artist.