James Lumber Center Announces Fall 2022 Season
The James Lumber Center for the Performing Arts (JLC) at the College of Lake County is pleased to announce its fall 2022 series, with tickets for all shows now on sale. The series includes the return of fan favorites The Second City, with their world-famous brand of comedy, Grayslake's own chanteuse Lisa Rock, a premiere performance by Rodney Marsalis, and holiday classic "The Nutcracker." This is the final season of shows curated by the JLC's longtime Executive Director, Gwethalyn Bronner, who retired recently after 25 years.
"We're excited to be able to present such a great range of programs. The performing arts are an important cultural asset that was hit hard by the pandemic. As we continue to recover, the James Lumber Center provides a terrific option for Lake County residents to see world-class entertainment in their own back yard," says newly appointed Executive Director, Alisa Baum.  "In addition to wonderful programming, we are now offering a discount to active military as well as deeper discounts for seniors. We want to be accessible to the whole community."
The JLC's fall 2022 season includes: 
The Second City Presents: Out of the House Party, Saturday, Sept. 17, at 7:30 p.m. Tickets $35 Regular / $32 Seniors and Military / $15 Students. Chicago's legendary sketch and improv comedy theatre returns for a laugh-packed adventure filled with improv games and classic sketches from the archives. Rated [R] for language.
Close to You: The Music of the Carpenters, Sunday, Oct. 23, at 4 p.m. Tickets $30 Regular / $28 Seniors and Military / $15 Students. Singer and Lake County resident Lisa Rock and her 6-piece band honor the Carpenters legacy, recreating many of the most memorable songs of the 70s.
The Rodney Marsalis Philadelphia Big Brass, Saturday, Nov. 12, at 8 p.m. Tickets $42 Regular / $38 /Seniors and Military / $20 Students. America's premiere large brass ensemble, this internationally acclaimed, diverse group of virtuoso musicians break musical barriers in an inclusive, joyful and intimate performance of

Brothers on the Battlefield: The Power of Love.

Ruth Page Civic Ballet's "The Nutcracker," Saturday, Dec. 17, at 1 and 5 p.m. Tickets $25 Regular / $22 Seniors and Military / $15 Students. The quintessential and beloved family classic returns for the JLC's holiday tradition in an iconic, full-length production featuring the elite company along with international guest artists.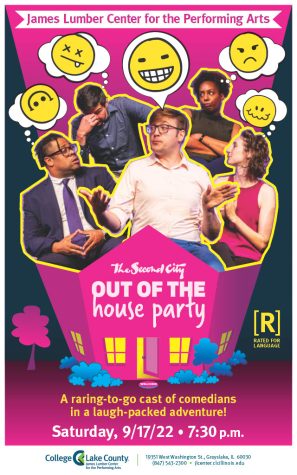 Individual and group tickets are available for all events. To order, buy online at www.jlcenter.clcillinois.edu or call their Box Office at (847) 543-2300. Tickets may also be purchased in person at the JLC Box Office. The James Lumber Center is located on the Grayslake Campus of the College of Lake County, located at 19351 West Washington Street.  Box Office hours are Monday-Thursday, 10 a.m. to 4 p.m. through July. Starting August 1, hours will expand to include Fridays. The Box Office is also open two hours prior to ShowTime on performance nights. 
At this time, the JLC will have reduced capacity to accommodate social distancing. Masks are optional in public spaces for everyone at the College of Lake County and the James Lumber Center. CLC has enhanced cleaning procedures in the theatre, restrooms and common touchpoints. Hand sanitizer stations are available throughout the JLC lobby.
As the premier, multi-functional performing arts center in Lake County, the James Lumber Center enriches the cultural life of surrounding communities by offering an outstanding, eclectic array of entertainment experiences, student productions and educational events. For 25 years, the JLC has ensuring that the performing arts are accessible to all.