Behind the Silver Screen
Kenneth "Kenny" Dantes has always had big dreams for himself. After making a big move to Los Angeles, his goal of becoming a film director is well on its way to becoming a reality. Currently, he works as a production assistant who facilitates background actors. One of his many responsibilities includes checking the extras in, bringing them to set, and helping the directors create the atmosphere of a set. Dantes and his fellow crew members must brainstorm ideas about what kind of characters in the background would populate a specific scene.
"We were in San Pedro. We were on a big yacht, and it was a poker party, but there was a heist that happened, and someone stole the characters' money." Dantes shared. "So, for this one scene, we have security guards with guns, the patron, the staff, and the caterers. Some people are going to wear fancy outfits and whatnot."
Dantes revealed that when the set is decorated with people, he and the crew must direct the background actors. He lines them up and guides them to the location where the actors should go and take part.
"We mimic real-life movements," Dantes emphasized. "That's our job, to have this exaggerated reflection of reality."
Dantes' love of film made him want to become part of the process of production. "I couldn't afford film school, so I went to the College of Lake County, which is fantastic because it allowed me to balance my love of film with my academic and literary pursuits."
After his time at CLC, he moved to Los Angeles after working extensively as a production assistant in Chicago.
"A production assistant is an entry-level position." He explained. "Once you get in, you get to work your way up because the experience allows you to have a foot in the door."
He described the job as challenging, mundane, and stressful. "But I do it because I'm on the set and I'm able to learn and see the mechanisms that go behind running a set, and it allows me to pursue different positions." He stated. "It lets you know how these scenes work when you're writing or directing them because you had that job."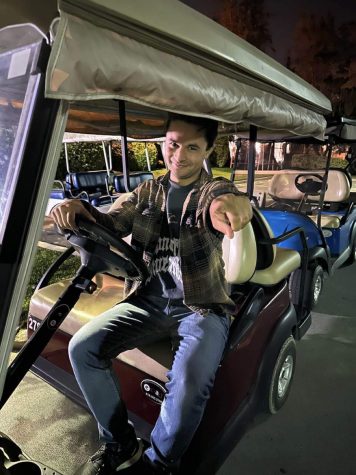 "The film industry in Chicago is very small. The good thing about that is that you can network more and work your way up more." Dantes described. "But there's only so much that a big fish can do in a small pond." He later added that many productions are not working in Chicago during the winter season.
On the other hand, he said that Los Angeles offers more work opportunities in the film industry, and scenes can continue to be filmed there due to its weather. "We have all the studios; you can run into famous people sometimes, and it's fun."
He also shared the downsides of living there. "It's expensive to live here, and it is still competitive."
When pursuing this type of career, Dantes strongly emphasized that it is something he does for the love of it. "I average about 14 hours a day, 5 days a week. It's tough. It's time-consuming. Don't do it for the money. Don't do it for the bragging rights. Just do it because you love it." Dantes said.
Dantes remarked that he is thankful to CLC for the opportunities he has. "If I went anywhere else, I wouldn't have the confidence I would have to do stuff like this."
If you're curious to know what he has been up to, Kenny Dantes has worked on HBO's Barry and Minx, NBC's Quantum Leap and American Horror Story. Dantes was an assistant director on Post Malone's live performance on Vevo and helped produce commercials for various companies.