CLC Professor's Published Poetry Collection
Professor, poet, self-published author, and former postal worker, Michael Latza has worn many hats in his life. Latza, 66, Third Lake, grew up in Chicago as the middle child of three older sisters and two younger brothers. 
"It's an interesting place to be," Latza said. "With birth order, the first child is a high achiever and associates with adults. That process repeated itself when I came along because I was the first boy." He recalled that if he wanted to do something, he was on his own to get it done.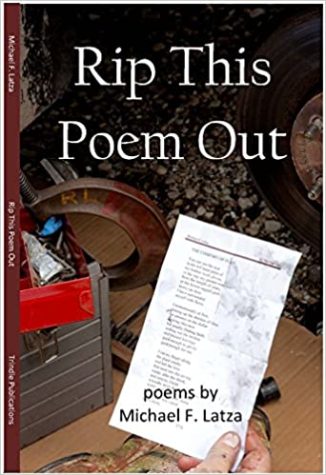 Latza attended Carl Schurz High School in Chicago. He played tennis and basketball, and he wrestled. Music appealed to him. He played drums in the band for four years and still plays when he can.
"I played one season here (at CLC)," Latza said. "They needed a drummer for the Christmas concert, so I did it." He said it just takes too much time, and he hasn't done it since. Surprisingly, he did not take AP English because it was the same period as band. 
Latza attended Loyola University of Chicago after graduating from high school. 
"I started as a bio pre-med," Latza said. "That was the most prestigious thing I could have done. I figured I could pretty much accomplish anything." 
He soon realized that he was spending all of his time on his English courses instead. He took a lot of English courses in his second year and changed his major to English. 
Latza spent what other students would call free time in college working for the Post Office. 
"I was going to school during the day and working full time as a clerk at night," Latza said. "I had to make a schedule for every half hour of my day." Latza graduated with an English degree in 1976 and didn't know the next step. 
"I thought, 'What am I going to do for a living now?'" Latza said. "The post office offered me a full-time job and I took it." He was a letter-sorting machine operator before becoming a mail carrier. He spent 25 years carrying the mail and said he liked it. 
 "I was working outside, making good money at the time, benefits were good, and raising a family," Latza said. "I can't complain about that. I decided it was time to make a change." He received his master's degree from Loyola in 1992.
Latza began teaching Composition II part-time at CLC in 1998. He stopped working for the postal service in late 2001. In 2002, he began working full-time as a professor.
"I knew I wanted to go into teaching because I loved the academic world," Latza said. "It wasn't until I was here that I realized why I decided to focus on English, language, and literature."
"Language is the basis for everything we do. It's essential for communication, anything moving forward for any kind of understanding or knowledge. Everything you see begins with written language."
Latza got into poetry in high school. "When I was reading Shakespeare, I just got it," Latza said. "I loved it. It just spoke a lot to me."  
Deciding to do his own writing was a logical next step.
"Creative language is a way to express myself and things that are hard to express any other way, in a new way, a more sincere way," Latza said. "That's how I process my feelings, in my writing. It's important to me. I'm hoping I can transfer that same experience to someone who is reading it."
"There's a feeling I get when I complete something. It's a nice feeling. It's about as close to creativity you can get. You're starting with nothing, a blank page, and just words. You craft something with them, a whole new universe out of those words." 
He wants his writing to affect people and take them out of themselves. 
"If you want to be moved by poetry, you have to give yourself over to the experience." Latza said. "You have to invest yourself into the poem." He said his writing process has become better the more he writes. 
"There are times when I'm distracted," Latza said. "It doesn't make sense to write then. Writers would pretty much rather do anything other than write." Latza likes to imagine that 'so what' is spray painted on the wall in front of him. 
"I never want to waste someone's time or state the obvious," he said. "I don't want to just write a diary here, anyone can do that." He likes to push past platitudes and figure out why he is really writing a poem. He needs quiet, time, and to be free of distraction.
"Artists vacillate between two different poles – confidence and despair," he said. "You've got to stay between those two poles the entire time." His Poetry Writing class is the cause of a lot of his poems. 
"I have to, otherwise I'll put it off," Latza said. "I was made to promise that I would write with them years ago. I had a couple students that said they would take the course but I had to promise to write with them."
Latza self-published his own book titled "Rip This Poem Out" in 2016. 
"It took me a lot of years to do it," Latza said. "I didn't want to be the jerk that does a vanity publication." He found the reason why he wanted to do it. 
The first reason was to have an artifact out there. The second was for his granddaughters. He wanted them to be able to see what was important to him and read his poems. 
"Nothing in there is salacious," he said. "I knew that was going to be part of my rationale for writing it." He learned many lessons while publishing his work. 
"Nobody is going to help you," Latza said. "You've got to do it yourself. Everyone is busy with their own shit." He figured out how to do the layout on Microsoft Word, bought his own ISBN codes, got a fellow professor to help with the photography, and learned how to post it on Amazon.
For must-read poets, Latza leans classical.  He said a lot of poets now think it's valuable to be hidden and private, and he disagrees. Latza listed Emily Dickinson, Edna St. Vincent Millay, Shakespeare, Elizabeth Bishop, Sharon Olds, Robert Browning, Tennyson, Richard Wright, and his rock, Robert Frost, as his must-read poets. 
"I'm old school," he said. "You should be able to understand poetry."