Eric Dorsa on how drag has revolutionized their recovery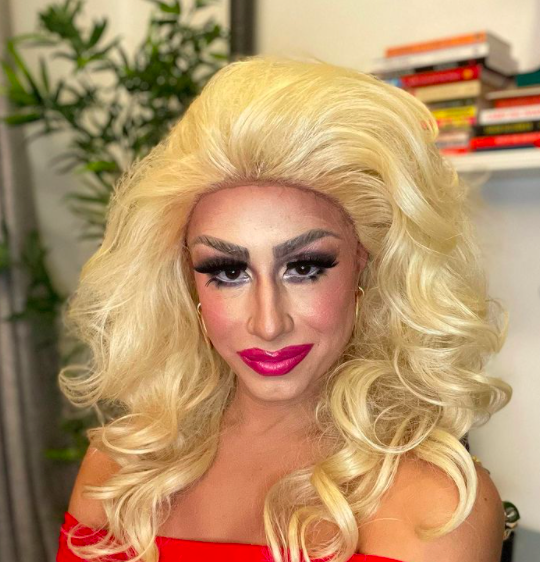 *Content Warning* – Eating Disorders, Homophobia, Addiction
Eric Dorsa, also known as Fonda Koxx, is a loud and proud drag queen and comedian who advocates for eating disorder recovery. They visited CLC to share their journey through recovery and how drag revolutionized their confidence and self-image.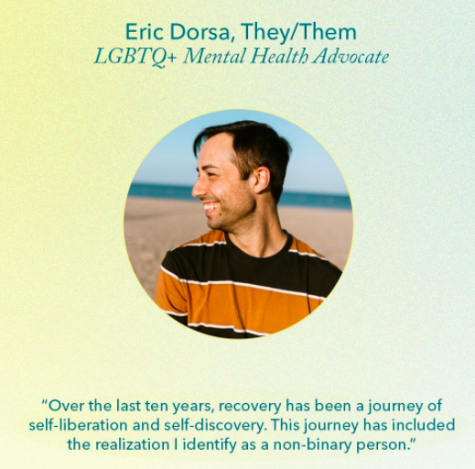 Born one of six children in a conservative southern Catholic family, Dorsa struggled with confusion and shame about their feelings of personal identity from an early age. They now identify as non-binary, but coming to terms with their identity was not a simple task for Dorsa, who battled an eating disorder for many years, stemming from their confusion about their gender identity.
"I had to become very aware of the world around me, and that hyper-awareness is essentially what made me very self-conscious," said Dorsa. "I began to censor myself. Growing up, I wanted things like an Easy-Bake Oven; boys from my family don't grow up wanting an Easy-Bake Oven. I wanted to play dress-up, and I was very theatrical. My family was very much 'stop that, you don't act like that, boys don't act like that,' and so I grew up constantly being conscious of how I moved, how I spoke." 
Because Dorsa struggled to fit into a world that didn't reflect their internal feelings, they began looking for a way to take control. 
"I blamed myself for how I was being treated. The older I got, I began to bury who I was, and it became unbearable. I began to really disconnect from my body and began binge eating cycles. I just needed to shove it all down," said Dorsa. "It gave me a way to manage and cope in a way that as a child I had no other way to do so. It felt like all of the craziness and chaos in my life began to have a solution. It became my friend."
"My eating disorder existed under the radar; the shame and stigma around my disorder was just as painful as everything else I was running from," they explained. "It just continued to compound as I began to feel more and more uncomfortable as a queer person having to exist in the closet."
Dorsa lived for many years, exchanging one pain for another until, at 18 years old, they saw the need to make a change.
"At that point, my eating disordered life was the only life I knew, and while all my friends were getting ready to explore life, everything in me felt completely gray. The only life I knew was my disordered eating behaviors, and I had no identity outside of them. The idea of putting on that mask one more day was unbearable," said Dorsa. "The shame I felt in that moment of having to come clean was ultimately what set me free. I realized that I needed to start getting honest about what I was going through."
"I made the decision at 18 to admit myself to a treatment center, and in that center, I met a woman whose son was gay and a head charge nurse who was also gay. Being able to witness them in their lives made me realize that there was something about them that felt safe," they said. "What I was getting out of my eating disorder was a sense of comfort, and what I needed more than anything was a safe space to feel unsafe. Having representation really allowed me to understand that I can feel unsafe and still be safe."
After leaving the treatment center, Dorsa felt a new sense of direction and purpose but was not being honest with the world.
"When I finally did come out, I was still not ready to deal with all the shame waiting behind the closet door. I was born in a world where being queer was being unacceptable and unlovable, told you're either not enough or too much for people," said Dorsa. "I wanted to blame my body and felt that how I was existing in the world was excruciatingly unbearable. At the core of my shame was the idea that I was fundamentally damned because I was queer."
"When I opened the closet door, it was my first sincere attempt at being honest about who I was," they said. "Everything I have today has been learned through recovery. It has helped me find meaning and given me hope and the possibility of dreaming."
Dorsa soon found a home in the art of drag, the performance of masculinity, femininity, or other forms of gender expression. 
"In my desperate attempt to find who I was, I discovered lipstick, wigs, youtube tutorials, and friends. What I had found as the antidote to the shame was community and connection. I found some pretty incredible people who helped me discover Fonda, and I began to see myself come to life," said Dorsa.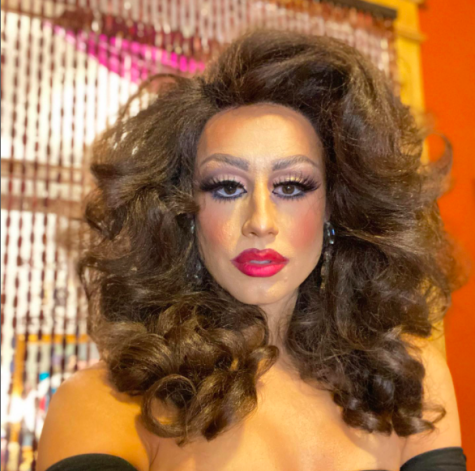 "When I would take the makeup off, I was met with this stranger again. Who are you? Who is this person who is putting on this costume? That is the person I had been avoiding," they said. "I was dragged into recovery. Putting on and taking off a persona helped me embrace the person underneath the costume. I began to see that all the things that were celebrated about my drag persona were inside of me. Fonda was inside of me."
"The walls I had built to keep out the bad were also keeping out all the good and the beauty that I so desperately needed to connect with," said Dorsa. "My recovery taught me that the world is not going to care. Big parts of this world are not going to change, and my recovery is not contingent on the world behaving well. It is what gives me permission to show up, to fight, to use my platform."
Dorsa was motivated to share their infectious confidence and inspire others to begin their own journeys through recovery, starting work as an advocate for eating disorder awareness and LGBTQIA+ issues.
"How I use my recovery today is to give it away. I run support groups as a way to stay connected and grounded, that there is a purpose to what I have gone through," they said.
In addition to speaking at the College of Lake County, Dorsa has presented at Tedx, Out Loud Pride Summit, Alliance Dare to Love Yourself Summit, and writes for the Eating Recovery Center and the Pathlight Mood and Anxiety Center. They continue to perform as drag queen Fonda Koxx, entertaining and inspiring many.
Dorsa concluded their presentation with these parting words: "The world is always going to be fighting progress, and that doesn't mean that it's hopeless. There's so much beauty that is happening as each one of us comes alive, and there is so much power and grace in just showing up to be seen."