Yankees Legend and Hall of Famer, Whitey Ford, passes away at age 91
The New York Yankees have announced that Hall of Famer Edward Charles "Whitey" Ford has died at 91.
There are currently no more details on his death.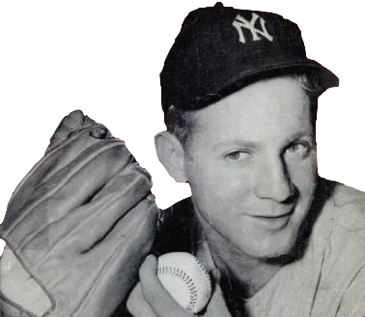 Whitey Ford. Photo courtesy of New York Public Library.
Whitey Ford, nicknamed "The Chairman of the Board," was an American baseball player who played his entire 16-year MLB career on the New York Yankees.
With uniform number 16, Ford won 10 All-Star games and 6 World Series championships.
He also won the Cy Young Award and the World Series Most Valuable Player Award in 1961. The Cy Young Award is given annually to the best pitchers in the MLB, while the World Series MVP Award is given to the player who was deemed to have the best team impact in the World Series.
Ford was also the Yankees franchise leader in career wins, at a stunning 236 wins and 45 shutouts, meaning to pitch an entire game without letting the other team score.
Ford had 3170 1/3 innings pitched, and 438 games started by a pitcher. He also held a winning percentage of .690, the all-time highest percentage in modern baseball history.
These monumental accomplishments earned him a spot in the Baseball Hall of Fame in 1974.
Mickey Mantle, also known as "The Commerce Comet" and "The Mick," spoke very highly of Ford.
"I don't care what the situation was, how high the stakes were – the bases could be loaded, and the pennant riding on every pitch, it never bothered Whitey Ford. He pitched his game. Cool. Craft. Nerves of steel."
Ford later went on to be the Yankees pitching coach in the 1964 season.
Ford finally had to end his well-run career in slowly declining health. In August of 1966, he had to undergo surgery due to a circulatory problem in his throwing shoulder.
In May of 1967, Ford played one more inning in what would be his final starting game. He then, at the age of 38, announced his retirement at the end of that month.
In 1968, he became the Yankees' first-base coach, and in 1974 and 1975, he was the pitching coach.
In 1974, the New York Yankees retired Ford's uniform number 16 and dedicated a plaque in his honor in Monument Park, New York, in 1987.
After Yogi Berra, another Yankees legend, passed in 2015, George Vecsey of The New York Times claimed that Ford was now "The Greatest Living Yankee."
Edward Charles "Whitey" Ford was terrific in his time and will be viewed as a legend for many years to follow.
He made a tremendous impact on the MLB and the Yankees and will inspire many young and upcoming baseball players.