It's Election Day!
Today, November 8th, is election day! Millions of Americans are casting their ballots in local voting centers and making their voices heard. Individuals can only do so much on their own, but there is strength in numbers. 
If you have never voted before, it is not a complicated process at all, provided you are already registered. To find a location near you, go to illinoisvotes2022.com and follow the instructions on your screen. Polling places are open from 6 AM to 7 PM tonight. 
This was my first time voting, and I was a bit intimidated by the idea, but it was simple and fast. I gave a receptionist my name, signed a slip of paper, received my ballot, and cast my vote. My drive to the school took longer than it did to actually vote. 
After voting, I made my way to class, where I encouraged all of my peers to vote if they hadn't already. My professor, Christina Lozano, agreed wholeheartedly. 
"It doesn't matter how you vote, as long as you do it and make your voice heard," Lozano said to the class.
When I asked her about the importance of voting, my classmate Ashley Early offered her own opinion.
"It's important to vote because you have an opportunity to try and shape the future of the world you want to live in," said Early. 
My friend Cecilia Luth, a fellow student at CLC, shared the exact same sentiment. 
"Voting gives me an opportunity to take control of my future, not just on a small scale, but on a scale that can impact my family, my environment, and the community I was raised in."
CLC even has its own polling place set up in the University Center on the Grayslake campus. Take the first left coming in from the Washington Street entrance. The dozens of campaign advertisements and the giant VOTE HERE signs make it very clear.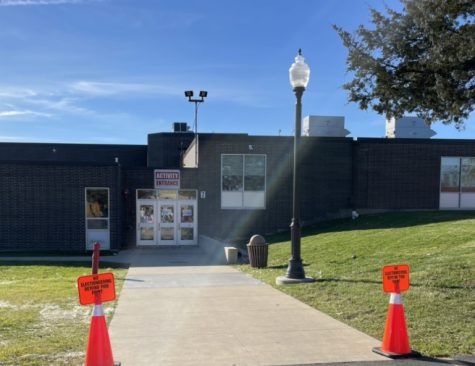 Perhaps you need to be convinced of the importance of local elections. In that case, the Chronicle's very own Rhea Hechanova wrote just the article to sway you. In it, political science professor Timothy Murphy explained the importance of midterm elections and why your vote counts.
"Please get out there and vote. Take advantage of the opportunity we've been given in our democracy," said Luth. She's right. Not everyone gets a chance at an uncontrolled vote. Election fraud happens around the world, even in democracies. Take Brazil and Ukraine for example – their most recent elections were heavily influenced by a watchful and imposing military force. 
Today is the last day to cast your ballot, make your voice heard, and participate in your government at the most basic level. You have a responsibility to yourself and others to vote, and the opportunity to have a say in the world! Don't waste it.