The simple beauty of CLC's "Eurydice" production
Ciara White, Co-Managing Editor/A&E Editor
November 17, 2021
This fall, the College of Lake County and its theatre have been preparing their production of "Eurydice," an award-winning playwright written by Sarah Ruhl. For CLC, the show was directed by Craig Rich, a theatre professor and instructor at the college.
The show opened for audiences on November 12, and I had the opportunity to watch it.
I had seen this show once before in high school. I remembered liking the show–and the Greek myth it's based on–so I was eager to see CLC's interpretation.
I was amazed. In just ninety minutes, the small cast of this show was able to bring a story to life, a story of pain and loss–but also love. Humor and seriousness were balanced nicely, altogether creating a show that speaks volumes.
"Eurydice" is a modernized version of the well-known Greek myth of Eurydice and Orpheus, now reimagined in Eurydice's perspective.
The original myth follows Orpheus' journey down into the Underworld to rescue Eurydice, his wife, but the story has been flipped entirely. Now, the audience watches Eurydice learn the customs of being dead in the Underworld, all while coming to terms with her feelings of love and loss.
Although some elements are changed, the story stays true and proves to show the value of Greek myths and their messages.
Sarah Ruhl's take is unique and compelling, transforming the original tragedy into an inspiring, heartfelt story about the value of memory and time spent with loved ones. While it certainly isn't a happy story, there's hope embedded throughout.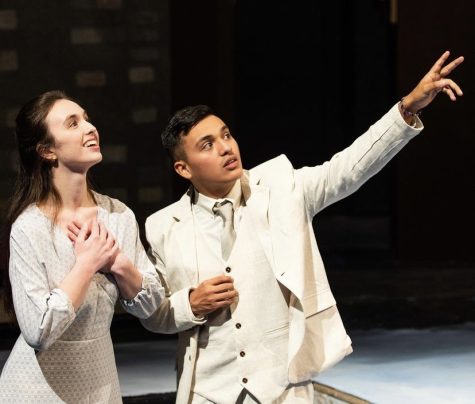 Helen Murphy, a business major at CLC, plays Eurydice and shines. Most of the show is carried by her and the events that she encounters, and Murphy approaches each one with confidence and ease. She fits the role wonderfully and makes each scene captivating and refreshing.
Murphy has been in a handful of CLC productions, most of them online due to the pandemic. Murphy is glad to be back onstage in person finally. While the past Zoom shows were great, the energy is different when in person.
The other members of the show agreed with Murphy on this sentiment. Mark Warden, a first-year film student at CLC, feels lucky to be granted the opportunity to play his character in person, the Nasty Interesting Man/Lord of the Underworld.
I found this character particularly interesting. Split into two personas, this character brings both tension and lighthearted humor to the show. Whereas the Nasty Interesting Man is beyond scary, preying on Eurydice to meet his pleasures, and the Lord of the Underworld–who we usually imagine to be looming and threatening–is simply a goofy boy riding on a tricycle.
The contrast is grand, but Warden performs it seemingly effortlessly. The audience consistently goes back and forth between laughing out loud and tearing up, a feat that is not easy.
Greg Sendi plays Eurydice's dead father, and he has to bear the burden of being alone in the Underworld. Sendi's ability to portray the character's grief was moving.
"[The show] is very poetic," Sendi said on CLC's theatre Instagram (@clctheatre). "It becomes a very interesting reflection on life, memory, and family."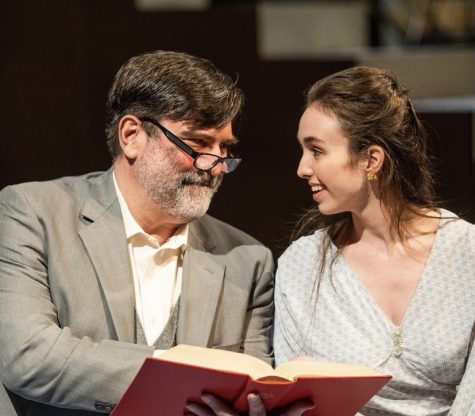 And I would have to agree.
The story is truly beautiful, its central message saying that one can overcome and transcend death by remembering and commemorating all the facets of life, the good and the bad. Before we die, we should cherish the time we have with others so that it can be remembered when we're gone.
It directly addresses an innate fear we all share: the fear of dying or having our loved ones die before us.
"The main thing I would hope the audience takes away from this production is to cherish the memories and the moments that they have with their loved ones," said Helen Murphy on CLC's Instagram.
Closing shows for this production are November 18 and 19. Tickets can be bought at the box office by calling 847-543-2000 or by emailing [email protected]. It certainly is an excellent, inspiring, and heartwarming show that I would definitely recommend checking out!
Additionally, don't miss CLC's next production, "I Have a Story to Tell," in late February! Auditions will be held on December 6th and 7th. The production cast specifically invites BIPOC students and community members to audition and have a chance to tell their stories on the stage.