Rockstars of CLC
Ciara White, Co-Managing Editor/A&E Editor
November 3, 2021
The College of Lake County is home for a wide range of students, each with their own passions and hobbies. A huge part of CLC is the student diversity, as well as the support given to each student that motivates them to work toward their dream.
One student who has stood out is Kenny Olzewski, a music major who is in his own band. His band, the Ax and the Hatchetmen, has been together for several years and has reached impressive feats with its music and gigs.
The band is made up of two guitarists—Olzewski being one of them—as well as a drummer, bassist, and a horns section (trombone, saxophone, and trumpet).
Olzewski first started playing guitar around four years ago, inspired to do so by his peers. When he saw that a couple of his skating friends played, he was drawn to the idea of playing. At first, it seemed cool, but the interest stuck. Nonetheless, Olzewski eventually found a passion in guitar.
With lots of practice and commitment, Olzewski has become very talented, and he is a crucial part to his band.
The band—Ax and the Hatchetmen—started during Kenny's freshman year of high school. Some of the members had met in the school's jazz band, which prompted the band's lead singer to begin organizing it. Olzewski jumped at the opportunity, wanting to make music with some friends.
"I was always looking to join a band or start one," Olzewski said.
Over time, the band has created its own indie/pop music and played at countless gigs. Additionally, the band has grown to be extremely popular. This took Olzewski and the other bandmates by surprise, as popularity was never their main concern.
"None of us even thought about the popularity," Olzewski said. "We just wanted to make some songs and have a good time."
While they were never in it for fame, it's impossible to ignore how big they have become. With over 15,000 followers on Instagram and over 150,000 followers on TikTok, the band has garnered a following outside of Lake County. With appreciative and loving fans, they have also put out their own merch.
Additionally, some of their songs have been big hits. "Silhouette," one of their earlier songs released in June 2019, has exceeded at least one million streams, whereas "Peach Trees" has over two million. According to Spotify, the band has over 65,000 monthly listeners, and that doesn't include listeners from other major streaming services.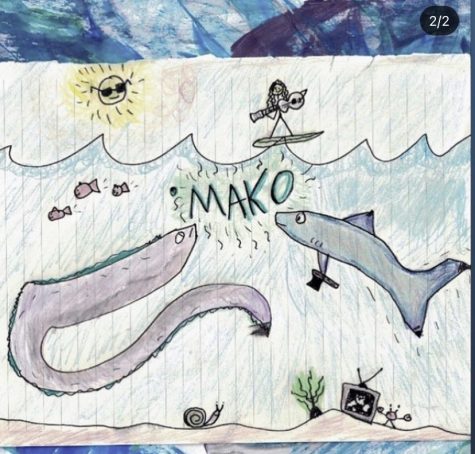 Their newest song, "Mako" was released in July 2021 and reached 35,000 streams in its first month of being released. Matched with a fun music video consisting of the band members messing around, the song has a very upbeat beach feel that is perfect for summer.
While Olzewski prefers guitar, he does sing in a majority of the songs, both harmonies and leading melodies. He specifically takes lead vocals in "Mako."
"I like singing, but I'm definitely not a singer," Olzewski said. "But it's still a good time."
Not only does he sing in some of the songs, but Olzewski actually writes most of the lyrics along with the lead singer. They write about a wide range of stuff, from sharks to heartbreak, and they find inspiration everywhere.
Olzewski's current favorite song of theirs is "Vlind," which is the last song off the band's unreleased, upcoming EP. Although Olzewski likes all of their songs, he said that this one in particular was very cool and something he was proud of. Olzewski, once again, sings lead vocals, and live performances of this can be found online.
All of their songs can be found on most major streaming services, and live gigs are starting to come more frequently. Through the pandemic, it was a little hard to set up gigs and events, but Olzewski is happy to be performing live more often.
One of their more recent gigs was at Waukegan's Green Town on the Rocks on October 16th, where they played a three hour set. Olzewski had a fun time at the gig, always finding live performances to be energizing and enjoyable, especially when there's a lively crowd.