Rising Alumnus of CLC's Scholars Program
"Getting involved is amazing but make sure that it is going to pay off. Pay it forward by working hard and helping others." Words well said by a journalist soon to be at the top of her field.
Za'tozia Duffie is an alumnus of the Scholars Program at CLC, and graduated summa cum laude from Lake Forest College. Duffie recently obtained a full-ride scholarship that includes tuition and living expenses to one of the top journalism universities in the nation: Syracuse University. 
When Duffie attended CLC, she was a leader within the community because the Scholars program pushed her to excel. Duffie discussed her heavy involvement on campus. She was a student worker in the public relations and marketing office, a member of Sister to Sister, a speaker at donor events, a member of the International Club, and even studied abroad in Spain and France. 
The Scholars Program shaped Duffie into the individual and the writer she is today. "The Scholars Program helped me tremendously!" Duffie said that in high school she was an honors student and was searching for a program that would prepare her to earn her four-year degree. The Scholars Program did just that.
Everyone would tell Duffie that CLC was too easy, but the honors courses she took proved them wrong. She felt that the Scholars Program prepared her for the rigorous workload at Lake Forest. "There were students who didn't understand the assignments being given. However, I excelled in those courses. It wasn't any harder than CLC. I truly attribute that to my involvement in the Scholars Program and the honors courses. Not only did it make me a better student, but also a well-rounded individual." 
She felt that being a part of the Scholars Program made her stand out as an applicant at Lake Forest College and never felt that she was at a disadvantage for attending CLC. Duffie said that if she had transferred without the Scholars Program or gone straight to a four-year institution, it would've been a more difficult adjustment.
When asked about her journey, she never failed to mention the Scholars Program. Duffie said that the program truly set her up for success and gave her confidence both as a student and writer. She felt empowered by professors encouraging her growth. 
In the Scholars Program, Duffie made presentations that tackled the issues in the black community. Some of the issues that she would speak out against were bias in the classroom and the fatality rates of black women in healthcare.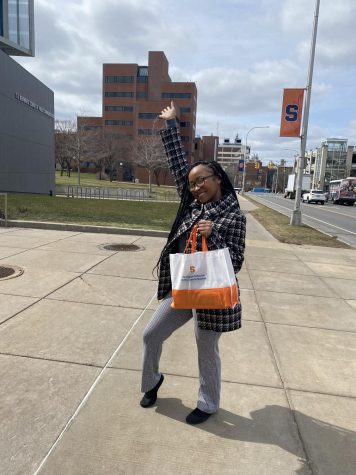 At first, she struggled to write about the urgent systematic problems because people do not want to hear the harsh truth. However, she never stopped advocating for the black community. "Knowledge is power," she said. Even though the issues she was reporting on were overwhelming, she never stopped speaking up because they were deeply important, both personally and globally.
She is always cognisant of these deep-rooted issues because she doesn't want to contribute to the problem. She aspires to be a future educator and wants to keep in mind how people of color are treated in the classroom. Duffie aims at making her future classroom a safe space for her students.
Duffie advises students that are heading toward graduate school to try their best and pursue their passions. Duffie suggests that students channel their energy toward developing their leadership skills and getting out of their comfort zone. She asserts the importance of doing activities that they can look back on and be grateful for the experience of.
"Everything that is supposed to be for you will be for you," said Duffie. She told students to stay determined, and that if their plans fall through, it doesn't mean they are any less for it. "Trust your journey and trust your abilities!"
Dr. Schevera, head of the honors Scholars Program, would always encourage her by telling her the papers that she was writing would one day be chapters of her book. Duffie intends on writing this book in the future.
Duffie explained how at first she was intimidated when applying for the program. She scoured the CLC website looking for ways to pay for college and is thankful that she landed on the Scholars Program. "Dr. Schevera was attentive from the beginning and answered all my questions." 
Duffie recognizes that imposter syndrome is real and that students shouldn't let it overtake them. She was thankful that the Scholars Program looked at her as a whole because she didn't do the best on the SATs.
In the end, Duffie is so thankful that the Scholars Program took a chance with her. Originally, she felt insecure that she wasn't as good of a student because she didn't compare to her peers in SAT scores. However, as time passed, she realized that "test scores don't define you." She advises students to be themselves, "Go to the interview on time with a smile and show them who you are." 
Duffie wasn't just another face in the program. The staff was invested in her success and the instructors helped her find her way to her dream. "It was amazing. You can't go wrong being a CLC Scholar!"
Apply to the Scholars Program:
https://www.clcillinois.edu/programs-and-classes/degrees-and-certificates/honors/scholars
Check Out Duffie's articles that she wrote when she was in the Scholars Program: 
https://www.icloud.com/iclouddrive/0ffO2OCvW3wkyybjhBi2OnouQ#Black_Identity_and_Education-Duffie