An Honor To Be Here
The College of Lake County has an organization named "Phi Theta Kappa" that is dedicated to recognizing and encouraging academic excellence and rewards its members for their hard work, service, and comradeship towards their studies and to their community.
"Phi Theta Kappa is the only recognized honor society for two-year colleges," explained Michele Nelson, the faculty advisor of the college's own chapter of Phi Theta Kappa (PTK). She further added that although most of the chapters are in the United States, there are others located in other nations as well, thus making it an international honor society.
According to the honor society's own website, ptk.org, it was established in 1918 and has a presence on almost 1,300 community college campuses in 11 nations. In 1929, it was recognized as the official honor society for two-year colleges by the American Association of Community Colleges (AACC). Since its founding, it has inducted more than 3.8 million students into the society, with approximately 250,000 active members in the nation's own community colleges as of this writing.
PTK's intentions are to provide students opportunities to grow and hone their skills as scholars focused on learning and being bright leaders in their respective fields and beyond with their skills and strengths for the future. "The organization offers scholarships to help students pay for associate's, bachelor's, and master's degrees." Nelson shared. "Many transfer colleges and universities offer scholarships to PTK members in good standing as well." There are other opportunities that PTK offers aside from scholarships. These benefits include self-paced online training programs that focus on soft skills, healthcare, interviewing, research, transfer topics, and many more. "PTK membership can be listed on a resume and can give an applicant an edge over other applicants with similar degrees and experience," Nelson also included.
Nelson also brought up that because community colleges aren't usually residential in nature, students can feel disconnected from their respective campuses and even from other students as well. In CLC's PTK chapter, it is their goal to increase student engagement both within the organization and the college itself. "We hope to give students a chance to study, work, and even play together," she shared. "Many student leaders want to find ways to give back to the community, so PTK members and officers go into the community to find out where there is a need and fill it."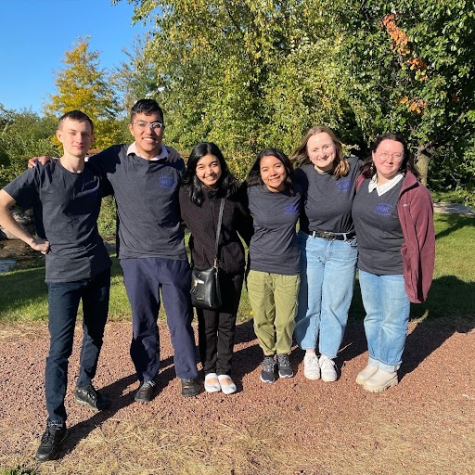 Nelson has also noted that in the past, officers and members have worked at voter registration drives, food pantries, and other places. Students who are officers in the organization are able to plan events and activities on the campus and have the opportunity to travel to conferences within the state of Illinois and throughout the country. "This year we are going to Columbus, OH, for the international conference in April," she explained.
For new members of the PTK, they are invited to join an induction ceremony, although this is not a requirement. Nelson further got into detail about this event, saying that "it is a formal welcoming of new members into our chapter" and adding, "We usually invite the college president, members of the leadership team, the Dean of Student Affairs, and other faculty and staff at the college." There are guest speakers there to congratulate the new members and give advice."
Additionally, those who are planning to attend the ceremony are welcome to invite their friends and family for a ceremony that lasts about an hour or so since it would explain the concept of Phi Theta Kappa to everyone in attendance and allow for individuals to be recognized as they would sign their name in our membership book and receive items such as a white rose, a candle, and a scroll. By the end of it, there will be a reception for all to enjoy.
Interestingly, each chapter of PTK has an officer team that focuses on two projects annually: Honors in Action and the College Project. The first is led by officers, where they have to research and create an action plan about their chosen topic. "Our chapter has worked on environmental and health issues in the community over the past years due to the research they have completed," Nelson said.
Meanwhile, the second, the College Project, has PTK officers work closely with the administration on an on-campus task. Nelson commented that "our chapter has recently helped with finding students to tell their stories, and the taped interviews are shown on campus and are open to the community as well through YouTube."
Nelson recommended that students should join PTK because of the benefits and opportunities it can offer and the doors it can open as well. "I was told recently that a member (who graduated years ago) recently hired someone who was a PTK member as well. She explained that the designation stood out to her because she knows how hard students need to work to get that 3.5 GPA." She later expanded that it is nice to be recognized, and one of the ways students can be recognized is through membership in PTK because it helps them stand out among the vast majority of people in their demographic. "And while you're at CLC, it gives you a place to belong as well," she concluded.
Finally, Nelson has emphasized the caution that there are honor societies that are scams and target students who go to CLC. "If students receive an invitation and it does not say Phi Theta Kappa, it is not from a legitimate honors society." She warned before stating that "I also encourage students to reach out to me if they have questions. Anyone who has completed 12 credit hours at CLC and has a GPA of 3.5 or above but hasn't been invited should contact me as well. There is a one-time membership fee, but we never want that to stop students from joining, so students should contact me if that is a hardship."