ESL Students Learn English to Invest in Future
 "Education is the most powerful weapon which you can use to change the world, " Nelson Mandela said. English as a second language (ESL) programs offer international students the chance to learn English and to achieve success with their goals in a new environment.
The teaching of ESL programs in America began during the 15th century  from the British Empire. They were  instrumental in developing large-scale programs to teach English in their trading countries and colonies. After World War II, millions of immigrants moved to America in the pursuit of life, liberty and happiness. 
Today, many colleges, schools and universities offer free ESL courses around the United States, enrolling  an estimated 5.12 million ESL students. 
As stated by Kelly Arce, ESL-ALE Department Chair of College of Lake County, "The ESL population in Lake County has recently increased by almost 30 percent," said Kelly Arce, ESL-ALE department chair at the College of Lake County. "We have seen an increase in students from Ukraine, Venezuela,  Colombia and South Korea."          
Arce said the primary mission of the ESL program is "to provide instruction in English speaking, reading and writing to adults whose primary language is not English so that they can increase their confidence, ability to communicate, and meet their educational/career goals." The department recently rolled out a Career and Workforce Bridge as "supplemental classes  where students can focus on employability skills, how to create a resume and cover letter, job interviewing skills, and a variety of career clusters."
 "Many students have given us feedback that these classes help them feel better prepared for entering the workplace because they work on their English skills at the same time as focusing on career-related topics," she added.     
Instructor Shirley DeMichele said an ESL educator should be "caring, engaging and flexible. "
"All ESL educators must be sensitive to their students' needs," DeMichele added. "If a teacher goes the extra mile to help, a student will know they have a safety net and will be willing to take more learning risks in their new language. Because all students are different, we need to use a variety of teaching styles for all learners." 
Moreover, she said she feels proud for all her students when they compose their first paragraph in English, when they can communicate with her and their classmates, or when some of them begin pursuing an associate degree at the college.
ESL instructors find satisfaction in their work.
"I enjoy teaching, helping others, and learning about other languages and cultures," ESL Instructor Selena Woods said. "Teachers must have competences, compassion and a learner's attitude. Adults face struggles and challenges as they adjust to a new place." 
Woods said teachers find reward when their students succeed with help from what they learn. =
 "I was satisfied when a particular student of mine used the skills that we had practiced to find a better job than her current one, apply for it, and go to two rounds of job interviews," she recalled.  
Instructor Sonja Thrush also has ideas about what ESL teachers need.
 "The most important qualities for an ESL teacher to have are empathy, love, curiosity, and authenticity," she said. "I love seeing my students feel empowered to use the Language skills they've developed, and seeing to what successes this leads them." 
One of her students recently had her poem published in Prairie Voices, CLC's literary magazine. 
In my experience as an ESL student, I views every ESL class like a cruise ship that has travelers from all over the world. Each cruise gives students the opportunity to meet new people and learn about them. 
My fellow passengers are from Ukraine, Latin America, Brazil , Mexico , Japan, China and  Turkey. Tetiana, Nadia, Olena, Irina, Oleksadra and Natasha left the traumatic environment of the war in Ukraine for a better future in the U.S.A. They struggle to learn how to live in Chicago, but they know how to achieve their goals. 
My classmates Nur and Yasemy  keep their Turkish traditions in their daily lives. They feel satisfied when they communicate with other people in English. 
Miquel, Martha, Marisol, and Trinidad  are all from Mexico and pleased about their daily efforts to improve their English skills.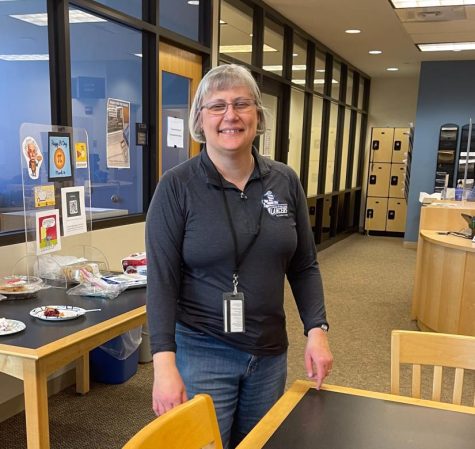 Alejanda and Fabio have Latin culture in their hearts, but they study English to improve their new  lifestyle. 
Tomoyuki is from Japan and enjoys ESL classes "because I can make friends from different countries." 
Sean came from China six months ago with his wife, and he said that because of ESL classes, his "English level has improved quickly." 
Kellyn is  married to a Brazilian-American man and moved to Illinois to start a new life. She feels  proud of her efforts to grow her English skills.
"All ESL students have great courage, and in their perseverance, they are successes," said Lee-Ann Frega, ESL Conversation Circle facilitator, said.
We all have different expectations for our future, but we all have the same goal: to improve our English skills.