Draft Capital Spurs Blackhawks to Trade Patrick Kane
On Tuesday, the Chicago Blackhawks have agreed to a three-team trade with the New York Rangers and Arizona Coyotes that will send Forward Patrick Kane to the New York Rangers for Conditional 2023 2nd round pick, 2025 4th round pick and Defenseman Andy Welinski from New York and defensemen Vili Saarijarvi from Arizona. The 2023 2nd round draft pick can become a first round pick in 2024 if the Rangers make the Eastern Conference Finals this year. 
This move will give Kane another chance to win a Stanley Cup. Kane, 34, has already won three Stanley Cups allowing Kane to win a fourth as well as give the Blackhawks much needed draft capital to implore General Manager Kyle Davidson to continue with his rebuilding vision. 
"This has been an emotional time for me and my family, but I feel this decision puts me in the best spot to immediately win another Stanley Cup," Kane said in a letter to fans. "This isn't about me leaving the Blackhawks, but this is an opportunity for me-the Blackhawks did everything they could to put me in a great position and I will forever be grateful. It is bittersweet to leave a place that is so special to me, but I will always carry the memories we made in Chicago."
""Patrick Kane leaves the Blackhawks with a legacy that will be hard to match. We all love Patrick and the memories he provided our fans and our organization for 16 seasons," Blackhawks GM Kyle Davidson said in a statement. 
Kane was drafted with the first overall selection in the 2007 NHL Entry Draft. His accolades since being drafted speak for themselves: 2007-08 Calder Memorial Trophy Winner, 2012-13 Conn Smythe Trophy Winner, 2015-16 Art Ross Trophy, Hart Memorial Trophy, and Ted Lindsay Award Winner as well as being a part of the Blackhawks three Stanley Cup Championships in 2010, 2013, and 2015. 
 "The contributions Patrick Kane has made to the Blackhawks organization and city of Chicago will never be forgotten," Blackhawks CEO Danny Wirtz said in a statement. "While today marks the end of an era for the team, he will forever be a part of the Blackhawks family. Three Stanley Cups, over 1,000 games, more than 1,200 points, over 400 goals and countless awards are just part of the legacy he leaves here — one of the greatest Blackhawks players in club history."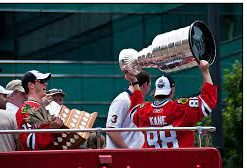 This marks the end of an era for the Blackhawks. Kane was one of two players remaining from the Stanley Cup Winning Teams, the other being Captain Jonathan Toews. 
"As we close Patrick's chapter in club history, we look forward to what will be another exciting era," Wirtz said. "We have full faith and trust in Kyle Davidson and his team to showcase their future vision for this team. We share this continued journey with our loyal fans and forever appreciate their support."
The Blackhawks now have 11 draft selections in the upcoming NHL Draft. Blackhawks at 21-34-5 currently sit with the 3rd best odds at 11.5% to get the No. 1 overall selection in the upcoming NHL Draft Lottery.   
Pulling off a trade of this magnitude of a player will never sit right with Blackhawks fans. For many, Kane put the Chicago Blackhawks back on the map again in 2009 and made watching hockey enjoyable. The Stanley Cup championships in 2010, 2013, and 2015 are things we may never see again. Kane did so much for the Blackhawks and the city of Chicago, that a highlight montage doesn't seem like enough to highlight the joy he brought to fans and the city.