CLC's sustainable future on the lake shore
As the world turns in a direction that requires more and more energy-efficient resources, the College of Lake County has great things in store for its campus on Genesee Street in Historic Downtown Waukegan. CLC's Sustainability manager, David Husemoller, spoke about the Lakeshore Campus' new additions and his thoughts about sustainability.
According to Husemoller, approximately 18 different professions were enlisted in the CLC solar panel installation project. Amongst those were lawyers, roofers, finance workers, electricians, and project managers.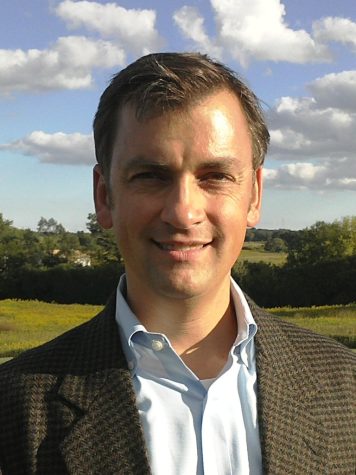 Nobody goes carbon neutral instantly as the process takes time and resources. So, where does CLC see itself at the end of this decade? 
"The goal is to be carbon neutral by 2042", Husemoller explained. 
According to CLC, significant progress has been made as CLC ranks #2 amongst Illinois community colleges for sustainability. Some of CLC's focuses on this route include minimizing waste through composting, adding more sources of renewable energy, and encouraging more city transit. 
As a Waukegan native, I have a special interest in how Lakeshore Campus affects the environment. If you've been going to classes at Lakeshore or perhaps passed it on your way to getting a COVID test on Water Street, you've probably noticed the new developments taking place. For those who haven't seen it, a platinum-ranked LEED (Leadership Energy Environmental Design) certified building is being constructed. Efficiency was the key for this building, and from the ground up, it's emphasized throughout. This building has features such as heliostatic smart-glass windows, along with a responsive HVAC system to help make sure it feels and operates how it needs to at all times. The heliostatic windows help let sunlight in or keep it out so the building can be kept at the proper temperatures without triggering other systems. It is effectively reducing the school's energy footprint in what was once one of the most polluted cities of the Great Lakes.
Overall, I'm excited about the initiatives taking place at Lakeshore Campus. The city of Waukegan is behind in terms of environmental health, and more infrastructure like this will be a massive benefit to our city's long-term health. With more similar infrastructure plans taking place on a state and federal scale, who knows, Waukegan could once again become an industry hotspot for employment in sustainable energy as it poses an excellent opportunity for the improvement of a metropolitan city's environmental health.