The Importance of Getting Vaccinated
It has been over two years since COVID-19 took over the world. It is not an exaggeration to say that everyone's lives have been affected by the pandemic. With over 5.5 million deaths attributed to COVID-19 worldwide, it needs to be taken seriously. Although there is no absolute cure for COVID-19, scientists and doctors have found ways to help everyone be as safe as possible.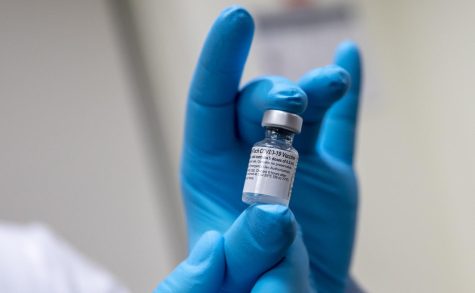 Getting vaccinated is a great way to do your part in helping the world return back to normal. Pfizer, Moderna, and Johnson & Johnson all have vaccines that are available at local pharmacies such as Walgreens, CVS, Jewel-Osco, etc. There are many benefits to getting vaccinated; it decreases your chances of getting and spreading the virus, and it lowers your chances of having extreme symptoms if you become infected. Twenty-one million doses have been given nationwide, and over 8.3 million people are fully vaccinated in Illinois alone. 
During this time of chaos and fear, as a community, we should all do as much as possible to keep ourselves and others safe and healthy. CLC Freshman Kaitlyn Bargamian is fully vaccinated and didn't have any doubts about her decision. 
"I think getting vaccinated was a positive experience for me because it was like any other shot I have gotten," Bargamian said. "My arm was sore for a couple [of] days, and then I was fine. I do think it could help to get the vaccine because it could help lower cases." 
One scenario that often gets questioned regarding the vaccine, is whether or not people should get vaccinated if they have already had COVID-19, and the answer would be absolutely. According to the CDC website, once you have had the virus, getting vaccinated adds another level of protection to your immune system. Although the vaccine is extremely important, it is proven that it becomes less effective as time goes on, so to ensure that everyone is as precautious as possible, booster shots are recommended. This step is the most important for people ages 65 and older. 
Even looking past all of the benefits and importance that the vaccine holds on a health and safety level, it also has control over lifestyle. For example, CLC and many other colleges have made it mandatory to be fully vaccinated, with the additional choice of getting tested once a week. Non-vaccinated people are also more likely not to be allowed into significant events like select concerts that require a vaccine card or negative test. The way the world is looking now, with more cases and deaths happening every day, it is essential that we all take COVID-19 seriously by getting vaccinated.